Why You Should Install an Aluminum Dock in the Spring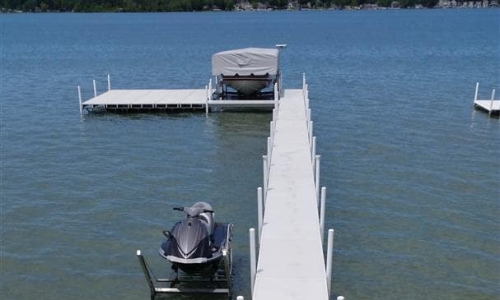 With fall marching on and the winter around the corner, it's safe to say it will be a while before the time to return to warm Michigan waters returns. Even so, that means that the present is the perfect time to start thinking about your plans for the spring and summer.
If you own lakefront property and want to expand your access to the lake by installing a dock, then drawing up your plans now—during the fall and winter—will make your life much easier when the spring arrives. That being said, the choice to install a dock goes hand in hand with another decision you'll have to make: whether you'd like to install a wooden dock or an aluminum dock.
In this month's blog post, we here at Pier Perfection are going to be detailing the advantages of the often-unsung aluminum dock, and why you should consider choosing one over a wooden dock.
Aluminum Docks and Longevity
Unlike their wooden counterparts, aluminum docks are designed to withstand the many slings and arrows of outrageous fortune that time brings. Where wood soaks in water over the years, leading to rot and splintering (ouch!), aluminum docks not only don't share that problem, but they also don't rust.
Additionally, the expansion and contraction of waterlogged wood through the heat and the cold causes more damage to the wood than aluminum faces under similar conditions. For this reason and many others, wooden docks generally only benefit from roughly 15 years of use before they need to be replaced. By contrast, aluminum docks tend to enjoy between 30 and 50 years—very possibly the rest of your life.
Aluminum Docks and Easy Usage
Apart from the lack of splinters, aluminum docks are also renowned for being easy to use. As you likely already know, aluminum is a fairly lightweight material, and aluminum docks are designed in the same way. This also makes aluminum docks ideal for floating docks, which are best served with lighter materials. Furthermore, installing and removing aluminum docks is much, much easier than installing and removing wooden docks, which are much heavier.
Where wooden docks generally take at least two people to remove a section of dock as well as a large trailer to move each bulky piece, aluminum docks can be so lightweight that one person, alone, can install one in an afternoon.
Are you interested in securing an aluminum dock for the spring and summer boating season? If so, seize the day and contact us at your earliest convenience. Don't waste a moment of spring and summer on planning your dock installation strategy when you can get it done now, in the fall. That way, when Southwest Michigan warms up again, you can begin spending it on the water without delay.