Why You Need a Boat Lift for Your Boat or Personal Watercraft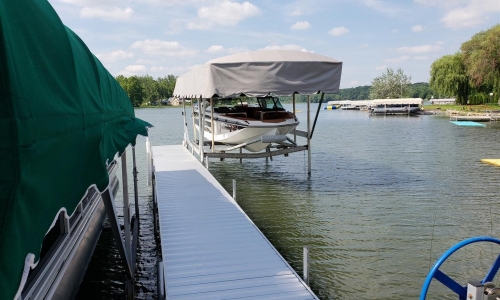 There are few better ways to protect your boat or personal watercraft than with a durable, high-quality boat lift from ShoreStation, Floe International, or Wave Armor – installed by Pier Perfection. While many people may feel storing their boat in the water by their dock is okay, it can actually cause damage to your boat, jet ski, or other personal watercraft. Fortunately, there's a solution! A boat lift works by storing and holding your boat above the water (not in it). In this post, we will take a closer look at why you need a boat lift for your boat or personal watercraft.
When you leave your boat in the water, you're setting yourself up for long-term issues, including hull blistering, wear, and corrosion as well as algae buildup and potential issues with the paint. Thankfully, these issues can be prevented, saving you time and money, by using a boat lift that keeps your boat out of the water when it's not being used. You may also experience damage to you boat of personal watercraft if the water is causing it to hit your dock. This can be especially dangerous when you're experiencing extreme weather and high winds.
Besides protecting your boat from damage or deterioration, a boat lift also makes getting in and out of your watercraft, safer, easier, and more convenient. A boat lift makes your boat a sturdy foundation that is not rocked or moved by extreme winds, changing water levels, or others entering or exiting the boat.
At Pier Perfection, our boat lifts and jet ski lifts are corrosion-resistant and built to last a lifetime. For many people, their boat is a major investment for which they want to do everything they can to protect and take care of. If you have any questions for us or would like to schedule an appointment, do not hesitate to contact us today.