Why are Aluminum Docks a Preferred Choice for Lakefronts?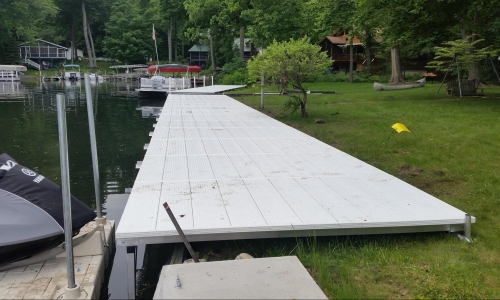 When considering what material you want on your lakefront, aluminum docks may seem like a standout choice because of the frequency in which you see them. However, the rate at which you see aluminum docks on the waterfront may make you wonder why aluminum docks are a preferred choice when it comes to lakefront equipment.
Pier Perfection offers aluminum docks because of the variety of benefits that are included when choosing them. Although there are other materials that do well to create waterfront docks as well, aluminum is a go-to choice for many. Reasons why include:
1. A lightweight option
The aluminum docks from Pier Perfection are often chosen to be aluminum by our customers because they are a lightweight option for installation and removal from any waterfront. Wood and steel are other options of dock material, but the weight of them can make them difficult to install or remove without the proper equipment.
2. A strong, durable option
Although wood may give the visual appeal of a traditional dock, it is not as strong of a material, meaning it does not stand up to wear and tear over the years as much as aluminum. Wood docks tend to decay over the years because of decomposition of the wood. Comparatively, aluminum docks are built to last anywhere from 30 to 50 years, giving any lakefront owner a dock that won't warp or twist with time if it is properly cleaned and gets the maintenance it needs.
3. Stay cool during summer
Unlike other dock materials, aluminum docks also have heat resistant surfaces, meaning they won't hurt to walk on, even after the sun has been on them for hours. This cool touch is perfect for enjoying your dock during the summer, with all the fun and none of the frustrating, too-hot-to-touch parts of your dock.
4. Easier options for setup
Because aluminum is lightweight and easy to manage, there are a variety of dock option setups available for it. These include standard, stationary docks, floating dock sections, roll-in docks, and sectional docks. Whatever type works better for your lakefront, Pier Perfection can help you find the perfect match of dock to help you enjoy the lake year after year.
With decades of experience, Pier Perfection recommends aluminum docks as the premier choice for any lakefront property owner. Contact our team today to get started on an order for yours to be installed next spring!