Why a ShoreStation Sectional Dock May Be Right for You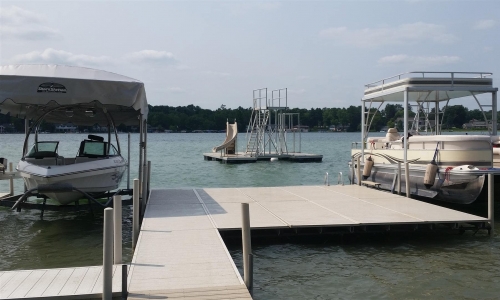 ShoreStation is a proven and trusted brand that carries sectional docks that are east, simply designed, and versatile, allowing you to create different layouts year to year. Besides looking great ShoreStation docks are also known for their durability and safety.
Durability
ShoresStation sectional docks are made with powder-coated aluminum deck planks and sideboards, heavy-duty aluminum or galvanized leg frames, aluminum leg extensions, and stainless steel hardware. These materials are incredibly durable and low maintenance.
Reputation
Since 1959, ShoreStation has been offering the industry's most rugged and dependable docks, boat lifts, and other waterfront products and equipment. You can have confidence your sectional dock will stand the test of time with their industry-leading warranties.
Versatility
As we mentioned before, ShoreStation sectional docks are extremely versatile and can be easily adapted to your current needs and lifestyle season to season.
Attractiveness
ShoreStation sectional docks look as great as they function. With wide sideboards and matching accessories, these docks are sleek and provide a traditional look that will never go out of style! There is also a wide variety of accessories that can be added to customize your dock, including lighting, decorative accents, flag poles, and more.
Safety
ShoerStation is known for their commitment to safety. Their A-frame design provides a wider base for enhanced stability and safety that's not found in many other dock systems.
At Pier Perfection, we are proud to offer and install ShoreStation docks and boat lifts. If you would like more information, do not hesitate to contact us or click here to visit ShoreStation's website. We look forward to helping you bring your vision to life so that you can enjoy your shoreline for many, many years.