What You Need to Know When Choosing a Free-Standing Boat Lift for Your Boat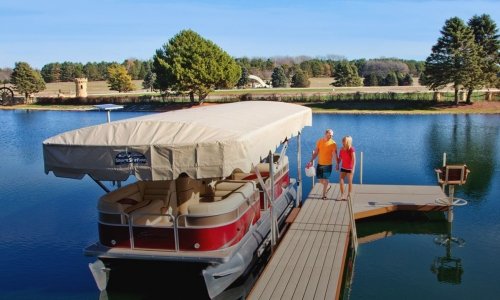 Before you choose a free-standing boat lift for your boat, pontoon, jet ski, or other personal watercraft, there are a number of things you will need to know in order to ensure you're making the right choice.
Determining the overall weight of your boat to determine correct lift capacity. The overall weight of your boat is not just the dry weight of the unit, it has to also include the weight of the fuel, any after market additions that have been made, outboard motor, water wells, and gear you keep on the boat.
Finding the beam of your boat, jet ski, pontoon, or other personal watercraft. The beam is the widest area of your boat. When choosing the inside width of your boat lift, you should make it about a foot wider than the beam of your boat.
Knowing the lake bottom where you will install your boat lift. After you have determined what you will need for your boat lift's weight capacity and what width is needed, you will also need to know what your lake bottom is like. First, you will need to know the depth of the water where you will be installing your boat lift. You will also need to know if the lake bottom in solid of soft and mucky. While freestanding boat lifts can be installed in areas with a soft lake bottom in most cases, you may need to have your lift mounted.
If you would like to see what boat lifts are available that meet your specifications, you can go to our design your own boat lift page where you will find links to applications where you can see what options are available and put together your own boat lift digitally before you buy! If you have any questions, do not hesitate to contact us!