The Perfect Aluminum Dock for Your Lakefront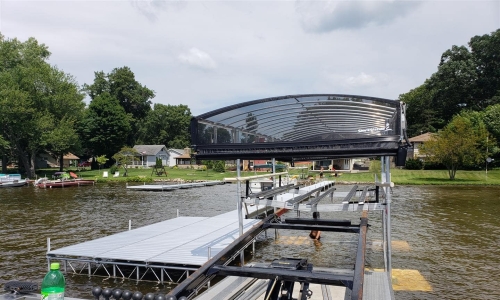 Pier Perfection offers three styles of aluminum lake docks from FLOE International. Knowing what your needs and wants are, and the characteristics of your shoreline, is critical when selecting what lake dock is right for you.
Roll-In Lake Docks
This style of aluminum lake dock is ideal for:
Medium to hard bottoms
Mild to moderate slope
Less than 9' deep at the end of dock
Spacious shore area
Those looking for easy removal and installation
Sectional Lake Docks
This style of aluminum lake dock works well in areas with:
Minimal storage space (though we can store our dock for you)
Hilly terrain
Depths up to 6.5'
Muddy bottoms
Floating Lake Docks
This style works well when you have:
Frequent water depth fluctuations
Soft or muddy bottom
Deep water
At Pier Perfection, we understand that aluminum lake docks are not "one size fits all" because of the varying characteristics of your shoreline. Because of this, it's important to work with dock builders who have the knowledge and experience to help you find the perfect dock for you. All of the docks / piers we design and install are built with safety, stability, and durability being core components of the engineering process for all of the brands we carry – including FLOE International. Incredibly easy to maintain, our docks / piers are built to last a lifetime. If you have any questions, or would like more information, do not hesitate to call us at (269) 233-2222 or contact us online using our webform. We look forward to working with you!