The 5 Step Process to the Perfect Summer Dock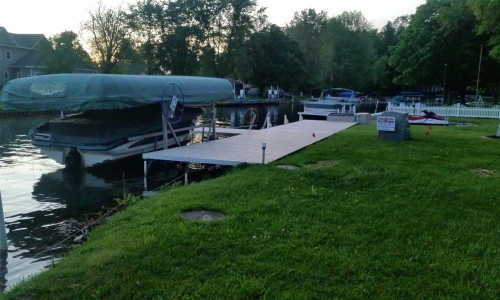 Michigan: when it's good, it's a balmy summer day on one of the largest freshwater lakes in the world. When it's bad, though, it's hitting a pothole at 30 miles per hour because the roads were too icy to swerve out of the way in time.
Therein lies the problem with Michigan summers: eventually, they end and turn to winter.
Here at Pier Perfection, we can't sell you a solution to make Michigan winters any less frigid. What we can do, though, is make your Michigan summers as enjoyable as possible. In today's blog post, we'll be discussing the 5-step process that we use with you to create the dock of your dreams that make your summer memories warm enough to tide you over for seasons to come.
Step 1: Designing Your Pier and/or Boat Lift
To kick off the process of building your dock, we naturally begin by designing the dock alongside you. There are a litany of ways to begin the design process, though we always have a consultation with you before any of the work begins. In order to get a full perspective of your needs for your dock, we'll ask about the types of activities and benefits you seek with your dock. To prepare for the meeting, we recommend you peruse our helpful links page, where you'll find links to create your own dock and boat lift designs from the comfort of your home.
Step 2: Contract, Down Payment & Scheduling
After we agree on terms and conditions, we'll draw up a contract legitimizing the service. In order to begin work, we ask that you provide a 50% down payment on the installation, where the remaining 50% will be paid after the installation is complete. Following the down payment, we'll work alongside you to schedule your installation's time frame to ensure you get your dock, pier, or boat lift as soon as possible.
Step 3: Assembly
This is where the fun part begins. In the third step of our process, we begin the assembly of your installation. To save on your time and money, we do as much assembly of boat lifts as possible in our own shop. In doing so, we're able to cut transportation costs, reduce time constraints brought with scheduling, and streamline the building process. If you're having a dock or a pier installed, we'll generally assemble most of the components at your residence before installing them in the water.
Step 4: Delivery and Installation
At this stage, we'll deliver all components to your residence that haven't already been brought over and begin the process of installing your pier, dock, or boat lift into the water. In practice, this means that our professional dock builders will load your boat lift onto our barge and deliver it to your waterline for installation.
Step 5: Happy Customer & Final Payment
At last, the fun part. At the fifth stage of the process, we finalize the remaining payment and officially sign off on a job well done. That being said, we remain open at this point in the process and even after the job is done to any questions, comments, or concerns you may have. Finally, your boat lift, dock, or pier has been completed, and you can enjoy your brand-new dock.
With Pier Perfection, you're only 5 brief steps away from the dock of your dreams and a Michigan summer truly worth looking forward to. If you're interested in having a boat lift, dock, or pier installed on your property today, contact us so we can begin our work immediately.