Summer Dock Repair for Easy Fall Removal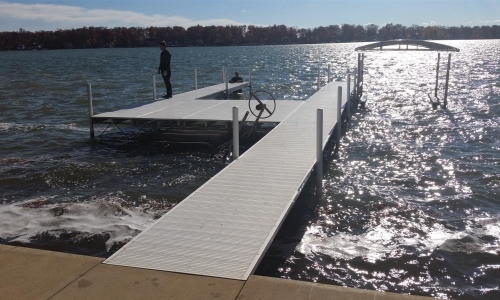 Often times, issues with docks don't want to be addressed until the end of the season. And who could blame someone who acts this way with their dock? While the Michigan summer is in bloom, every day spent away from the water can feel like a missed opportunity.
That being said, waiting until the end of the season to repair your dock can lead to greater issues—and more summer days not spent on the water—in the long run. That's why, in today's blog post, we'll be discussing the importance of repairing your dock during the summer so that you don't miss out on lakeside afternoons in the long run.
Don't Let Issues Multiply Over Time
The best way to stop damage to your dock is preventing it before it happens. The second-best time (and most likely time) is as soon as you discover the damage in the first place.
Whether you have an aluminum dock or a wood dock, preventing damage is the easiest way to "repair" your dock before it ever becomes a problem. Specifically if you have a wooden dock, we recommend that you purchase a sealer that you can use to coat parts of your dock in. This prevents water (rainwater as well as lake water) from seeping into the wooden planks of your dock and leading to moisture build-up and, eventually, rot.
If you already have rot in the wooden planks of your dock (or some other issue with your dock) then we recommend addressing it as soon as possible instead of waiting for the summer season to end. By waiting for the season to end, you not only increase the risk of that issue multiplying and leading to more damage, but you also increase the risk of more permanent damage to your dock upon removal. If your wooden dock, for instance, has started to saturate and rot, then the planks could deteriorate or split into small chunks as you remove it.
Damaged Docks Deteriorate Even in Storage
Even if you manage to remove a damaged dock in the fall without adding any further damage (which is more difficult than it may seem), that doesn't stop your dock's conditioning from worsening in storage. Docks with rot or water in them will almost certainly worsen in condition during storage (particularly if stored in a dark, damp location). Additionally, the changes in temperature from the hot summer to the frigid winter causes both wood and metal to expand and contract, turning otherwise minute warping into repairs that could cost hundreds of dollars.
If you'd like to keep your dock in top shape for summer usage both now and in the future, then don't wait on dock repair. Contact us today or click here to view our Services page and see if your dock's or boat lift's damages are eligible for repair by our team at Pier Perfection. Keep your dock above water, where it's supposed to be—contact us today.