Stationary or Floating Aluminum Piers: Which is Right for You?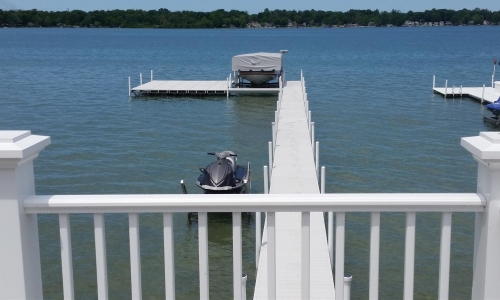 If you're looking to have an aluminum pier installed at your shoreline, you may be wondering what style is best for you. In order to determine this, Pier Perfection can help you to assess your needs and wants as well as your shoreline. In some cases, it may be a good idea to create a dock system that uses both stationary and floating pier sections. In this post, we will discuss the differences in these two pier styles.
Stationary Aluminum Piers
Because they rest on the ground in the water, stationary aluminum piers are incredibly stable, making those who walk on it feel safe and secure. These durable aluminum piers are also often used as an extension of your property for various lakefront gatherings like parties and celebrations.
The main downside to stationary aluminum piers is that the space between the water and the pier will vary depending on the water level. This could potentially make getting in and out of your boat more difficult than if there was a consistent gap between the pier and the water.
Floating Aluminum Piers
Floating aluminum piers have been steadily growing in popularity since the 1990s because of their durability and adaptability. These piers are easy to install and assemble. Because they can be anchored in any body of water or attached to any available structure, floating docks are a great choice for many homeowners. You can also easily remove or add pier sections in order to change its shape if your needs or wants change. Unlike stationary piers, floating piers adjust to your water level so that the space between the pier and the water remains consistent.
In general, floating aluminum piers do not last as long as stationary aluminum piers. They also may not be ideal for you if you see a lot of boat traffic near your shoreline as they move with the water.
If you have any questions about our aluminum stationary or floating pier systems, do not hesitate to contact us today!