Shorestation Boat Lifts and Docks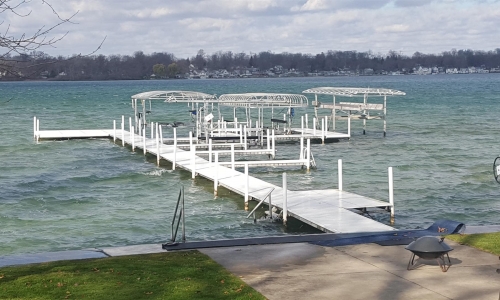 Shorestation Boat Lifts
Bring your boat to a perfect stop with Pier Perfection's Shorestation Boat lifts. Our Shorestation brand offers three different types of power systems with their boat lifts: the hydraulic, power winch, and manual winch.
Their hydraulic boat lifts are the fastest on the market and the thoughtful design makes boating easier from launch to lift.  The hydraulic lift is great for those days with less-than-ideal water conditions because their cables are pulled instead of wound and are pressure regulated so they stall before lifting potentially damaging loads. Though all pontoon lifts have been updated to lift today's larger, heavier pontoons. This system is a solar-powered, DC operating system that gets rid of the need for an AC circuit on the dock.
If hydraulic lifts do not fit your budget, the power winch system is a dependable choice built on proven technology for years of use. This solar-powered, DC electric operating system has a direct drive motor that is enclosed to reduce exposure to the outside elements and uses a groove drum winch to eliminate cable contact while winching giving you a longer cable lifespan.
More than 50 years from its creation, we still offer what became the industry standard of what a boat lift should be – the manual winch. With decades of proven reliability, the Wheel Lock Mechanism safety feature is spring activated, so it prevents the platform from being raised too high. This aluminum construction provides superior endurance and eliminates the use of welds.
For boatlift specifications, browse the Shorestation brochure for more detailed instructions and requirements.
Shorestation Docks
Shorestation's one-of-a-kind docks offer simple and versatile designs that let you create different layouts every summer. With the powder-coated aluminum deck planks, sideboards, and leg frames there is little maintenance; giving yourself more time to play. This dock is safe, stable, and simple with its non-skid finish planking that remains cool to the touch, quick-mount accessories, and spring-loaded pin mechanism that keep the planks together.
Not only is it a deck made easy, but it is also an attractive attachment to your lakefront. With its endless layout options, you can really create a dock that fits your needs. This dock comes in sand beige, cedar brown, harbor gray, and slate gray. We also offer bumper attachments and other dock accessories that are designed to compliment this personalized dock. For more in-depth information about Shorestation Docks, look through the dock brochure available on the Shorestation website.
Ready to purchase and install your own dock or boat lift? Contact Pier Perfection today!