Plan Your 2024 Boating Season with Pier Perfection Dock Builders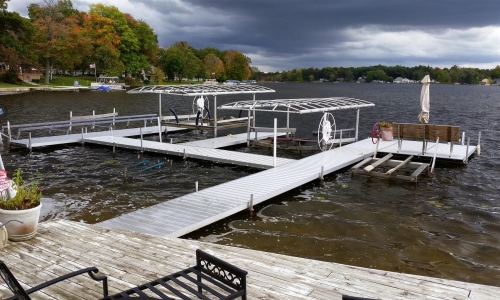 Though the boating season is firmly over in southwest Michigan, that doesn't mean there's nothing to look forward to. When the ice thaws and snow melts in the spring, the ideal opportunity will soon be upon us to get your boat and boat lift ready for the coming summer. That being said, boats and boat lifts are only really helpful if you have a dock where you can place them.
Here at Pier Perfection, our professional dock builders excel at assembling and installing docks throughout southwest Michigan. That's why, in this month's blog post, we want to discuss what you can expect when you work with our team to purchase your dream dock in anticipation of the 2024 boating season.
Dock Builders Who Never Leave You Hanging
Our dock builders provide the full package when you work with us here at Pier Perfection. Here, we specialize every step of your dock's installation.
Design
Our team of professionals will work with you to design a custom dock that addresses your unique needs. We don't believe in one-size-fits-all solutions, and we know that every customer will have different dream docks and boat lifts.
Installation
Once you've decided on your ideal dock, we'll begin the installation process. First, we begin by bringing the dock to your property so it can be assembled it on-site. We do this because we understand that the contours of the lake floor can be uneven, and we aim to provide the most level docks possible. To aid in this, we may even bring out our unique barge boat that safely and efficiently installs pieces of your deck using hydraulics.
Quality Checks
At this point, we'll check to ensure that your dock or pier system is as level as can be accomplished. We understand that an uneven dock can not only be unenjoyable, but can also make boarding and exiting boats, jet skis, and other vessels unnecessarily difficult. For that reason, our dock builders always strive to provide the best leveling service possible.
Maintenance & Removal for Customers Like You
After the job is done, our team of dock builders won't just forget about you. That's why we offer maintenance and removal for all our customers within a 30-minute drive of our business.
Maintenance
Our team offers midsummer repairs on all boat lifts and docks we sell. Moreover, as long as you're in our service area, we're willing to perform an inspection for those who didn't purchase from us, and we'll offer maintenance as long as our professionals feel confident we can give you the service you deserve.
Fall Removals
Once the fall finally rolls around, we'll remove your dock at your request. Moreover, we'll even provide storage for your dock throughout the winter. Then, when the spring and summer at last return, we'll install your dock again so you can return to lounging on the beautiful southwestern Michigan waterfront.
You deserve a dock that's stress-free, easy to manage, and enjoyable to use. Here at Pier Perfection, our team of professional dock builders is here to help give you that exact experience. Contact us today for more information!