More Reviews from Our Satisfied Aluminum Lake Dock and Boat Lift Customers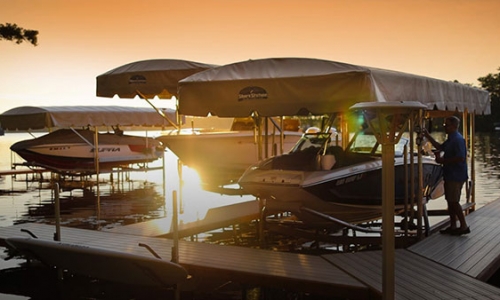 For most of us, this year has been unlike any that we have experienced. We want to thank all of our customers for trusting Pier Perfection for all of your aluminum lake dock and boat lift needs. We look forward to continuing to provide you with excellent products and unparalleled service.
"Josh and his crew were out well after dark finishing up our new Floe Maxis lift last night.  We couldn't be more impressed with the finished product or effort to complete the job quickly.  These guys are over a month behind through no fault of their own being shut down by COVID-19 orders and are putting in every hour possible to catch up and get their customer's Summer started.  Your efforts are noticed and appreciated!!  Highly recommended!!" – Mikel R.
"Excellent group of guys! We have used them exclusively for the past 5 years to put our pier and shore stations in and out of the water. And especially our trampoline that the grand children love. They are friendly, professional and great to work with." – Mary P.
"Josh and his Pier Perfection crew has helped me since I got my first house in water. He helped me buy a lift and pier to fit my needs and budget and has done a great job with our spring and fall services." – Matt C.
"Josh and his crew are great! Customer service is second to none. The Floe lift is a great investment." – Mark T.
"Josh and his team went above and beyond to make sure we were taken care of with our new lift!" – Ryan M.
If you have any questions about our aluminum lake docks or boat lifts, do not hesitate to contact us today! We look forward to working with you.