Make the Most of Summer with Professional Dock Builders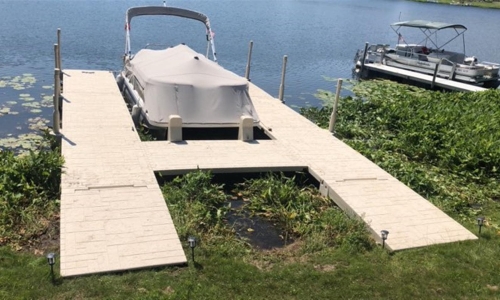 If you are on a lake and want to enjoy it better, the professional dock builders with Pier Perfection are the team for the job. This summer has been another with plenty of potential for fun in the sun, and the dock builders at Pier Perfection can work with you to plan, design, and install the dock of your dreams so that you can enjoy your time on the lake year after year.
We carry some of the best brands in the business for docks, boat lifts, and more to make your waterfront the best it can be. These products, paired with the professional services to match, make our dock builders the best choice for anyone in need of a professional, dependable dock experience.
Design your own dock
Because Pier Perfection offers FLOE International and Wave Armor as options for your beach's dock, you can design your own by using their webtools to do so! This can help anyone on the lakefront figure out exactly what it is that they are looking for with their dock and customize one to fit all their preferences and needs.
We encourage everyone who is interested in bringing more engagement and fun to their waterfront to design a dock of their own to see the possibilities!
Enjoy with little effort
Once you have your dock picked out, Pier Perfection does all the heavy lifting for you! Our professional dock builders deliver the hardware to you and are capable of doing assembly right on your property. We can then install the dock for you, making the process completely hands free for you. We try to make the waterfront dock process as simple as possible for every customer to allow you to simply enjoy your new beach setup.
Simply purchase your dock with us and hire us for both spring installs and fall removals, and your dock will be a great piece of equipment at your disposal to make the most of summer year after year. And, if any problems come up with your dock years down the road, our team can also help through our midsummer repairs that we perform for customers.
With over two decades of experience under our belt, Pier Perfection is the obvious choice of dock builders for your beachfront needs. With professional-grade equipment and the customer service that only a locally owned and operated business can provide, see the difference Pier Perfection can make for your waterfront by giving us a call today!