Light Up Your Aluminum Lake Dock with LED Lights from Pier Perfection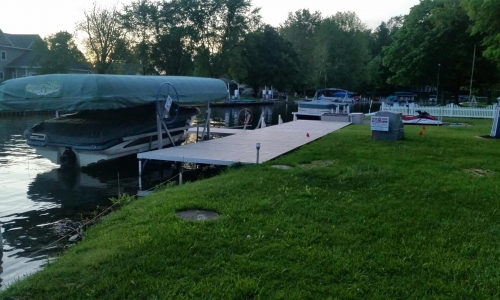 As it gets later in the season and the days are getting shorter, you should consider making your aluminum lake dock more safe with solar powered LED lights from Pier Perfection. Whether you're bringing in your boat after the sun has started going down and it's getting dark, or you are walking around by your shoreline at night, solar powered LED lights can help keep you and your family safe. In this post, we will discuss why you should light up your aluminum lake dock.
Preventing collisions. When you're coming in on your boat at night, it can become difficult to see exactly where your dock / pier is when you come back into shore. The good news is, Pier Perfection carries a number of bright solar powered LED lights that when affixed to your dock / pier can ensure you avoid collision.
Low maintenance. Pier Perfection's solar powered LED lights provide an easy way to have light on your aluminum lake dock without the hassle of having to turn them on and off every night. With our lights, you can light your dock in an energy efficient manner with almost no effort involved.
A number of options. We have a variety of solar powered LED lights, so you're sure to find ones that meet your needs. Whether you're looking for lighting that's simple or you need something more specific, we've got the lighting solution for you.
At Pier Perfection, we have been servicing customers on Diamond Lake and beyond for all of their dock / pier needs for over five years. For your convenience, we also carry a number of high-quality lake accessories, including solar powered LED lights, dock / pier bumpers, swim rafts, and more! If you have any questions about our aluminum lake docks, or anything else, do not hesitate to contact us today!