It's Time to Start Preparing Your Pier for the Fall and Winter Seasons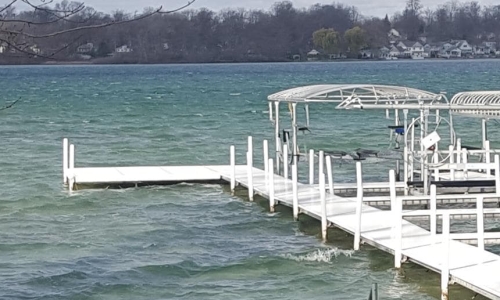 Summer is coming to a close and weather is getting cooler. This means it's time to consider how to prepare your pier or dock for the fall and winter, whether that means removing and storing it, or winterizing it with a deicer or aerator. Whichever option you choose, the experienced team at Pier Perfection can provide you with effective service to ensure that your pier or dock is properly cared for and protected from even the harshest Michigan winter weather. We have a specialized barge that uses hydraulics for safe removal of any pier or dock that we have installed, and we even offer this service for docks and piers installed by other companies within a 30 minute service radius. In today's post, we will discuss the benefits of removing your pier or dock for the season and the precautions that need to be taken when leaving it.
Why Removing Your Pier or Dock is a Wise Decision
Your pier or deck can last you for years and years if you take the proper measures to protect it from the harsh winter elements. Whether you have a roll-in dock, sectional dock, or a floating dock, storing it in a dry place to protect it from any potential damage from snow and ice. While you may be tempted to try removing your d0ck on your own, our staff has many years of experience removing these types of docks safely and making sure they are securely stored for the offseason months. For an affordable price, you get the peace of mind knowing that your dock will be in great shape and ready for use once the weather warms back up in the spring. Even if you didn't have your dock installed by us, we offer this service to customers within a 30 minute radius of our location in Southwest Michigan, so contact us for details.
You Can Leave Your Dock in the Water for the Winter by Taking These Precautions
If you should decide that you want to leave your dock or pier in the water for the winter months, then you need to make sure you take the proper precautions to protect your dock from any damage caused by months of freezing, thawing, and refreezing. The first thing you will need to do is remove any accessories attached to your dock. Once this is done you will need to tighten all bolts and screws, which can come loose due to the fluctuating temperatures of the winter season. Once a safety line is attached, it is then time for the most important part of preparing your dock: deicing the dock. By deicing the dock, the structure will be protected from warping and damage that results from the weather and temperature fluctuation. If you should have any questions about the deicing process of winterizing your deck, don't hesitate to contact us.