Get Your ShoreStation Lake Dock Ready for Summer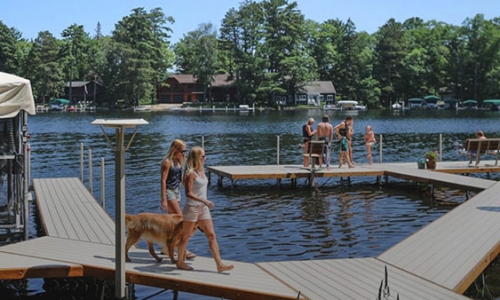 It is that time of the year again, time to ready your ShoreStation lake dock for summer! The long winters in Michigan can be harsh and as soon as spring hits, we are ready for the warmth it brings. Be prepared for the first warm day and get you lakefront ready by calling Pier Perfection to install your dock. We do both spring installs and fall removals on docks and piers that were purchased from us. Don't have a dock or pier yet, or looking to upgrade? Call Pier Perfection today!
Spring Lake Dock Installation
Once you purchase your lake dock from Pier Perfection, we can service both your spring installs and fall removals of your docks and piers that were purchased from us. We prefer to only service customers that hire us do both the spring install and fall removal. We tend to work within a 30-minute radius of our building, but we will service those outside the radius during their first year. In addition to our removal service, we also offer pier storage. During setup, we will deliver the dock components and do all the assembly right on property, occasionally we will use our barge to install each section to create a level pier system. What are you waiting for? Contact us for Spring installation and get your lakefront set up for the first warm day.
Summer Repairs and Upgrades
Is your lake dock, boat lift, or pier in need of a repair? From early June until Labor Day, we offer our repairing services, as long as they are repairable. If you are in our service radius and did not purchase your lake components from us, we may be able to repair them anyway. Call us for an inspection and/or more information if you are interested in Pier Perfection's summer repair options. We do our best to help when we can!
For pier, boat lift, and lake dock upgrades – contact us using our online form or give us a call at (269) 233-2222 for more information. We get back with our customers within 24 hours! We offer a variety of boat lift, pier, and dock options depending on what you need for your lakefront property. We sell ShoreStation, Flo International, and Wave Armor products. We look forward to hearing from you this Spring!
Contact Pier Perfection for the perfect pier – properly stored, delivered, and installed – every time.