Find the Best Lift for Your Boat and Jet Ski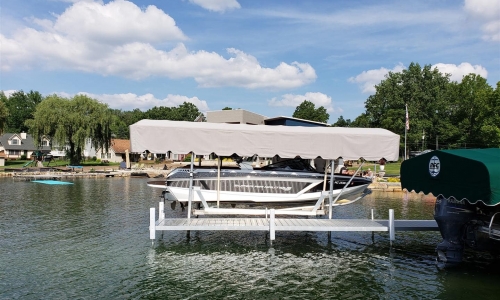 Pier Perfection only provides the best when it comes to boat lifts and jet ski lifts. That is why we offer full lines of Floe International, Wave Armor, and ShoreStation lifts that can accommodate every type of boat or personal watercraft for your waterfront. With our easy to operate lifts that we sell and install, our lifts are made with the highest quality frames, cables, and pulleys. No matter what your need is, we can help. Whether you need a lift for a speed boat, pontoon, or any other watercraft – we can find the right option.
What Kind of Boat Lift do I Need?
With our boat lift brands, you get a variety of options when it comes to choosing what works for you. With ShoreStation and Flo International, you get a free-standing, permanent boat lift that can be manually cranked, winch driven, or solar-powered. With the addition of canopy options that will keep your boat out of the harsher elements.
When you choose Wave Armor, you get a floating boat lift that is both easy to use and to operate. When searching for the boat lift that best suits your need, you can browse our catalog options to gain a bit of an idea on what budget and components you want. With Flo International, you even have the option to design your own custom boat lift. Why choose a stock lift that doesn't fit your waterfront requirements, when you can create your own? Click here to design your boat lift!
Jet Ski Lift Options
At Pier Perfection, we have a variety of brands and options to choose from for your waterfront lifts. With ShoreStation and Floe International, you get cantilever and vertical lifts with a manual crank option, winch-driven, or solar powered models. With Wave Armor, you get floating jet ski lifts that can be used without getting in the water. You simply have to walk around them, remove the cover, and hop on to enjoy. If you are interested in discovering more jet ski lift options, browse our site.
Pier Perfection has the variety you crave when searching for boat lifts, jet ski lifts, docks, piers, and more. We do installs and seasonal take-outs for our customers as well. Stop into Pier Perfection today or contact us online!