Designing the Perfect Summer Boat Lift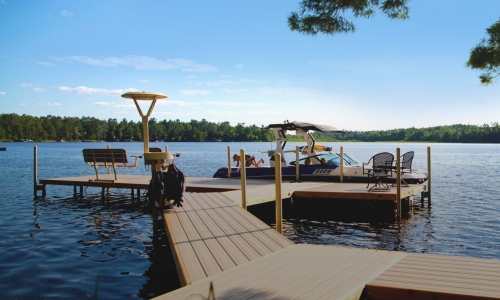 With spring finally here, it is at last time to dig out our boats from their tombs in storage and return them to their natural habitat: the water. As most boat owners know, however, maintaining your boat once it's in the water can be even more difficult than storing it on dry land. For that reason, Pier Perfection offers customers the ability to design their own boat lift with the help of our trained professionals. Through Pier Perfection's 5-step boat lift designing process, you can create the boat lift that fits your individual needs perfectly, so that you never have to stress over getting your boat in and out of the water again. With summer only a few months away, now is the perfect time to begin work on your new boat lift; that way, not a single moment of the summer will need to be wasted.
The Process
We begin the process of creating the boat lift by having a consultation with you, the client. Once we've determined all your needs for your boat lift, we draft options we feel will address your ideals. After signing off on the design, our professional dock builders assemble as much of the boat dock in our shop as we can. Then, we deliver and install the dock on your property, making sure to make the dock as level as possible. By assembling much of the dock in our own shop, the goal is to eliminate any added difficulties that arise when constructing in the water. Additionally, we at Pier Perfection value your time and privacy, and strive to minimize the amount of time spent working in your backyard to what is absolutely necessary.
Design Your Boat Lift from Home
Still just toying with the idea? With our design-a-dock system, you can easily design your own ideal dock from your computer. Made in the powerful Unity engine, you have complete control over your dock's walking section, canopy, boat lift, and even accessories. We also offer an array of some of the most popular boat lifts for you to integrate into your design, such as ShoreStation and Floe International models. Once you've created the dock and boat lift of your dreams, you can request a quote of the exact model you constructed, so you can quickly get an idea of how much your ideal dock and boat life may cost. Or, just play around with the dock editor and kick some ideas around in your head—it's surprisingly fun.
Are you interested in getting the perfect dock and boat lift? Contact us today to get started on your perfect boating season.