Design a Custom Dock or Boat Lift in Southwest Michigan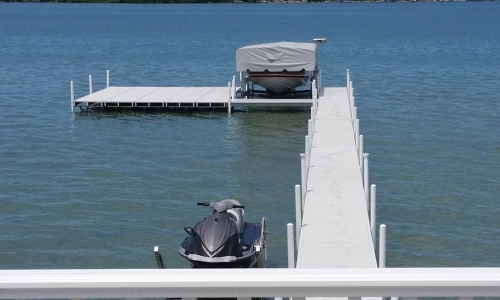 Pier Perfection is dedicated to providing Southwest Michigan residents with quality docks and boat lifts for fun-filled summers. We have a great selection of different styles of boat lifts and docks to choose from that can provide you with a lifetime of summer fun in the lake. The best part is that you can use Flo International to custom design the boat lift or dock that fits your specific needs. In today's post, we will discuss how you can go online and design a custom boat lift or dock to help you enjoy life on the lake.
A Boat Lift Designed to Your Specific Needs
Having a proper boat lift can make your life on the lake that much more convenient. We have partnered with Floe International, where you can use their site to design a boat lift with all of the features and specs that are appropriate to your needs and setup. This site allows you to enter the weight and dimensions of your boat, including the size of the motor extending off the back. Once you have entered this information, you will proceed to their online design center, where you can see what you boat lift will look like. You will also be able to choose any additional accessories you want for the lift, including canopies.
Get a Dock or Pier That Works For You
If you are looking to add a pier or dock to your lake property, Pier Perfection can help with that as well. Through the use of Floe International or Wave Armor, you can design a pier or dock online. You will include all the details you need for your dock, including whether you want aluminum or aluma-grain; whether your shoreline is rock wall, beach, or sea wall; and even the style and ramp you want. Feel free to click on the links provided above to see how the process works for yourself.
We at Pier Perfection know that different customers need different piers and docks for their lake homes. This is why we always try to offer a wide range of different designs, so you can find an option that works for your specific needs. With motorized or electric boat lift options along with docks or piers that can be designed in multiple shapes with different features, Pier Perfection can make sure you are equipped for years of summer fun on the lake. Contact us for more information about how we can help you build the custom dock or pier you need for your lake house.