Can Aluminum Docks Stay in the Water through Winter?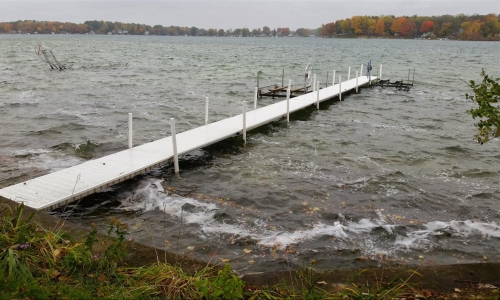 If you are an owner of a new aluminum dock and are wondering if you can let it stay in the water through the winter, the team at Pier Perfection is here to help you learn more. After bringing our team on to your shorefront to install a dock for the spring and an entire summer of fun, you want to be sure that you take care of your aluminum dock properly and removing it for the winter is often the best choice.
Although aluminum docks are a hardy and built-to-last option, part of keeping their lifespan long for many summers of fun includes proper maintenance and storage during the winter.
The problem with freezing water
If you keep your aluminum dock in the water through winter, there are some problems that may arise over time. Areas that stay warm enough or have water that doesn't freeze through the winter are okay to leave docks in; the problems come with freezing water. However, it is not just the water freezing that causes the problems, but what happens after ice once again melts.
When freeze and melts, ice flows occur. This movement of ice on top of the water can damage your dock by banging against them with large amounts of pressure, moving them with heavy force, which can bend or break while also moving the dock from the shoreline, causing erosion.
We're here to help
We are still in the perfect time of year for customers to schedule fall removals of their boat lifts to get them out before ice flows can be a concern. This seasonal service that we provide for docks that have been purchased from us ensures that your aluminum dock is kept safe so that you can install and enjoy it for years to come.
Our team provides professional dock services that every lakefront owner can count on. If you are worried about ice flows doing damage to your aluminum dock, and you are in our service area, we are more than happy to help.
With over two decades of experience working with docks, boat lifts, and more, Pier Perfection has the know-how to keep your dock safe during the winter. Contact us today to get scheduled for fall removal of your dock to ensure yours stays safe for many more years of use in the future.