Advantages of Floating Aluminum Lake Docks from Pier Perfection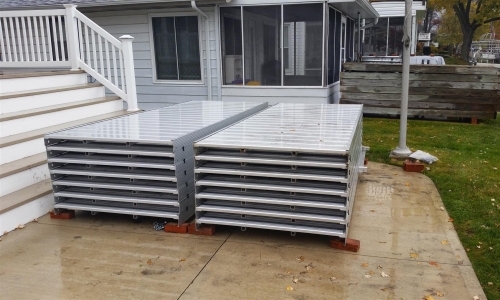 There are wide-ranging advantages of choosing a floating aluminum lake dock versus choosing a dock that is made of other materials like plastic or wood. In this post, we will look at why Pier Perfection sells and installs aluminum lake docks exclusively.
Durability
Aluminum floating lake docks are incredibly durable. While wood has come a long way, it is still susceptible to warping and rotting in a marine environment. The durability of aluminum also means that is more resistant to scratches, fading, bending, warping, and other damage that can easily occur from weather and normal use. Aluminum is also a lighter material, making it easier to move or adjust if needed.
Rust Resistance
When some people consider having a floating aluminum lake dock, they worry about the possibility of it rusting. Fortunately, the frames and brackets of the aluminum docks we install do not rust.
Environmentally Friendly
The manufacturing of floating aluminum lake docks does not require as much energy as does the manufacturing of lake docks made of other materials. Also, aluminum is a total recyclable material.
Easily Adjustable and Expandable
Floating aluminum dock systems can be adjusted and expanded very easily and with less effort than lake dock systems made with other materials. By choosing a floating aluminum lake dock system, you are also able to remove and store it as needed with much less effort.
At Pier Perfection, we have worked with a variety of materials and lake dock systems over the years. We have found that there is no better material than aluminum. If you have any questions, or would like to learn more about floating aluminum dock systems, do not hesitate to contact us. We look forward to working with you to create the dock of your dreams.