5 Reasons Why Dock Builders are a Great Choice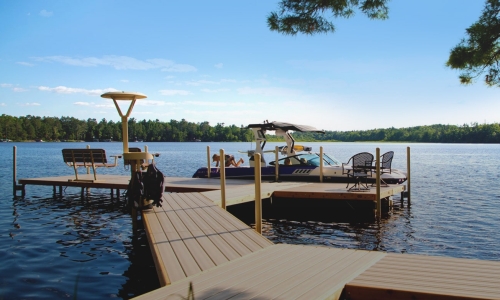 When warmer weather makes it way back to us, there are a variety of reasons why dock builders are a great choice for getting on the water. Although purchasing a dock that comes put together can still be a great choice for some waterfronts, having a custom, unique dock that is put together on-site can be the perfect way to bring all your summertime fun together in the way that helps you enjoy the lake most.
Pier Perfection are professional dock builders that have worked with homeowners with tastes across the board for what they desired from their lakefront. From docks that offer the maximum space for parking watercraft to a simple, relaxing design on their water, we do it all. Some more reasons to consider dock builders include:
1. Access and protection
With a dock builder, your custom-made dock provides easier access and protection to your watercraft. By constructing around your boat, jet ski, or pontoon, your dock is made to perfectly fit and allow for simple on and off loading to your watercraft. And, with a custom build, your boat or jet ski lift is easily built around or implemented into the design helping the protection of your craft.
2. Built for your beach
Depending on how you have access to the water, a custom dock provides a customized way to get to it without causing erosion or damage to your beach.
3. Increased value
With a custom dock included on your property, the value of your lakefront is increased greatly. Anyone looking at purchasing your home in the future is sure to be pleased by the fact that a professionally-constructed dock comes included with the property, leaving more in your pocket at the end of the sale.
4. Build within restrictions
Sometimes, pre-built docks can't go onto your lakefront because they go against your lake or local municipality's restrictions for them. By choosing a custom dock, you can build within restrictions to still enjoy the water without breaking any agreements.
5. The perfect experience
It goes without saying, but a custom dock also provides the owner with the perfect lakeside experience, catered to what they desire out of their dock. Dock builders provide custom decking, any boat lift inclusions, ladders, lights, and more. The dock of your dreams can become a reality when you choose to work with dock builders who know what you want.
Whether a simple, small dock, or a large, custom pier for multiple watercrafts, the dock builders at Pier Perfection do it all. Contact us today to get an early start in the year on your plans for the perfect dock.