3 Types of Load Guides and Why You Want One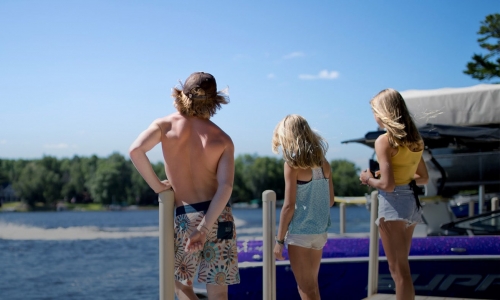 Do you find yourself struggling against windy, wavy conditions when you're attempting to park your boat? Are you new to boating and finding it stressful to line up your watercraft just right? Load guides are your solution! Anyone can benefit from load guides, and they are particularly helpful to those whose boat lift is located in particularly wavy bodies of water or rivers with their currents. In this article, Pier Perfection shares the three main types of load guides and why you want them!
Spring-Loaded Foam Load Guides
The most economical option, a spring-loaded foam guide works the best with traditional v-hull and ski boats. The canvas that covers the thick foam cylinders protect the paint on your boat as you move in and out of the lift. The other benefit of spring-loaded foam load guides is that if you ever need to replace a foam log or cover, they are both cheaper replacements parts in comparison to other parts of the lift.
Carpeted Load Guides
These are the most traditional load guide systems, often the boat lift manufacturers provide aluminum mounting hardware with the boat lift. The customer can then source their own treated lumber from a lumber yard and cover it with marine carpet that is available through various vendors, this is then mounted to the lift using the provided hardware. This style has the added benefit of acting as a step for you to enter and exit your boat.
Guide Rail Systems
If the biggest draw to you is the assistance load guides provide for alignment inside the lift, then this may be the one for you. A newer design of load guides, guide rail systems are covered with vinyl and flare out, providing the greatest level of assistance to drivers parking their boats into their boat lift. They can be mounted on the sides of the lift cradle similar to the carpeted load guide. These are also an option for those with pontoon boats, as they can act as a guide as well as lift and lower your pontoon to and from of the water.
Which Guide to Choose
These three types of load guides can be hard to chose from as there are many factors that go into deciding on the right guide for your boat. A few factors to consider include your location, your level of experience and comfort, your desired cost, and the type of boat or watercraft you have. The knowledgeable staff at Pier Perfection are intimately familiar with load guides and boat lifts and are prepared to help with finding the right style for you. Our goal is to make sure our customers walk away feeling confident they made the right decision. The less time you spend worrying about load lifts, the more time you have to enjoy your time on the water. Contact us today with any questions and we can help you get set up with your very own load guide!